We are living in a wired world.
Everyone LOVES their phone.
Phones come everywhere we go.
Phones are great and have become very useful tools. Of course, we all love the ability to capture video or photos with this handy little device.
Phones are fantastic … until they are not.
How annoyed would YOU have been if this was your wedding day photo that was trying to be captured by the professional photographer you paid good money for to capture this once in a lifetime moment?
Thanks to Aunty Beth with her huge tablet, the photographer missed this shot.
Aunty Beth's shot wouldn't even be that great. Not only that, she is probably not going to keep that image anyway once she sees how blurry it turned out.
Sure, the tablet is definitely the major offender here, but look at the rest of the photo too. It doesn't look like any of the guests are really "in the moment" and experiencing the joy with the couple. They are experiencing it though a lens so they can MAYBE go back and watch it and relive it again on a small screen.
One guest is more interested in trying to snap a "selfie" with the bride and groom in the back rather than give the respect she should be giving. Another guy just looks like he's updating his Facebook status.
What a shame and what a missed moment for them to not have been present in the moment and enjoy it with the greatest lenses they have … their own eyes.
To be able to make eye contact with the couple as they walk back down the aisle and give them a smile.
Missed moments that can not be re-done.
As your celebrant, I highly recommend having me announce to all guests to please have their phones turned off for your ceremony. I explain that the couple wish to have their guests present in the moment and that a professional photographer has been hired who will take care of taking all the photos, which will be shared later. We call this an "unplugged" ceremony.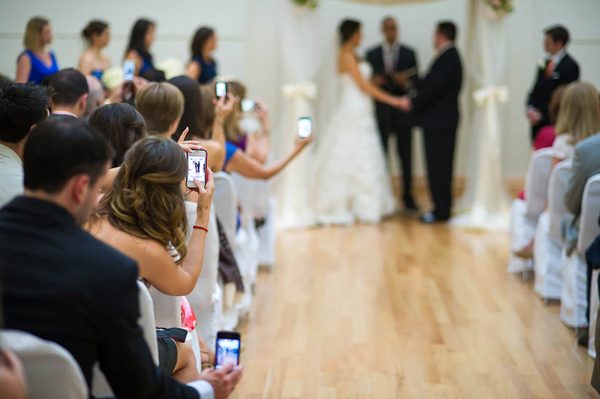 The above is a fantastic example from a professional photographer of what she had to deal with when trying to capture this shot. All she could capture is either the couple in focus and a blurry phone being held in front, or the phone and a blurry couple.
I imagine this guest would not have been too popular with the couple!
You spend a lot on photos. Other than the memories that I can help you create, the only thing you have is your photos. Don't let them be ruined by your guests.
Ban phones at your wedding ceremony.
Warmly,
Nik Reeds
Civil Marriage Celebrant